Within the scope of internationalisation and in this age of communication without borders, the translation industry is in a constant state of change. The amount of text requiring translation is rapidly increasing and the quality of its content is decisive for successful communication. This makes it more important than ever to take a professional approach when working with text. How customers are addressed, corporate design and image cultivation are key factors when creating, translating and editing text. High-quality source and target texts are essential for assuring the quality of the message that a company wants to passionately convey to its customers about its products.
Do you operate globally? So do we!
We are a team of qualified freelance translators who love outdoor sports and are passionate about languages. We help you to head out and achieve your aims by supporting you in our specialist area: (language-)barrier-free communication. Together we can overcome hurdles and hit the start line fully prepared. We use our expertise to confidently face the road ahead with great expertise and have the right equipment to remain securely on track and successfully reach the desired destination.
---
OUR AREAS OF EXPERTISE
Consulting
Proofreading
Translation
Transcreation
Final quality assessment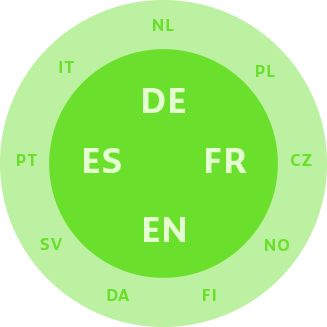 ---
OUR SPECIALIST AREAS
Sport
Travel
Lifestyle
Culture


Animal protection
Our areas of work
Magazines | Journals | Booklets | Articles | Features
Manuals | Non-fiction books | Route descriptions
Reports | Announcements
Workbooks | Brand books
Press releases | Interviews | Campaigns | Location marketing | Manifestoes
Product videos | Image films | Film scripts
Social media posts | Web content | Web stories | Landing pages | Newsletters | App text
Flyers | Banners | Slogans
Technology descriptions | Product descriptions | Training documents | Knowledge base articles | Terminology lists
Customers
that we accompany through the big wide world of words:
Masterful
Tell us where you want to go and we will show you how best to get there.
Our preferred approach is to look at the text in Word, IDML (InDesign), Excel or PDF format and then quote you for your project (proofreading, translation, final quality assessment). We plan the entire project workflow and calculate the turnaround time.
We conduct most translation projects using translation memory systems. These enable us to analyse source texts and determine which words and phrases are 'new' and which have already appeared in an identical or similar form in previous texts that we have translated. We use translation memory systems to store our translations so that we can access and 're-use' them if necessary. Such systems enable a high level of consistency in our translations as sections of source text that have appeared before with identical or similar phrasing can be faithfully reproduced in the target language.
Many of our translations require a great deal of creativity. To give you first-rate quality every time, we never 'head out on our own', but instead work on EVERY project as a team in line with the concept that two heads are better than one. This means that texts are translated by a qualified mother-tongue translator then reviewed by a professional proofreader. We discuss tricky areas of the source text before the project begins so that we can professionally translate them into the target language, which is always the translator's mother tongue.
We know our way around well – in both the great outdoors and the big wide world of words – and help you get where you want to be. We check every text prior to delivery to ensure that any specific terminology has been adhered to, the tone of the text is right for the company and the target audience is appropriately addressed. On request, we also check the text in final layout format once it has been processed by your graphic designers or programmers. Depending on the material, this can be in PDF format, online or on an offline website. This final quality assessment enables us to ensure that no language-specific errors have crept into the content design 'on route to its destination'. We also check the look of the target text in the final layout to ensure that target audiences are appropriately addressed across borders.
Languages are our life. As such, we create end products of particularly high quality.