Do you operate globally? So do we!
We are a team of qualified freelance translators who love outdoor sports and are passionate about languages. We help you to head out and achieve your aims by supporting you in our specialist area: (language-)barrier-free communication. Together we can overcome hurdles and hit the start line fully prepared. We master the road ahead with great expertise and have the right equipment to remain securely on track and successfully reach the desired destination.
---
Our skills
Translation and proofreading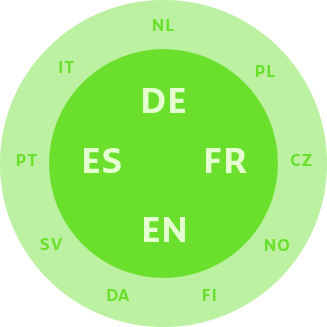 ---
Want to head to a region where none of the languages above are spoken? Then we will gladly activate our global network and 'escort' you to your destination, even if this lies in the furthest corners of the world.
OUR SPECIALIST AREAS
Sport
Marketing
Tourism
Culture
… but we are also happy to venture into new territory!
Customers
that we accompany through the big wide world of words:
Masterful
Tell us where you want to go and we will show you how best to get there.
Ideally, we like to take a look at the source text in Word, IDML, Excel, PDF, PPTX or text format and then tell you what a translation into the desired language(s) will cost and how long it will take. We conduct almost all projects using translation memory systems. These enable us to analyse the source texts and determine which words and phrases are 'new' and which have already appeared in an identical or similar form in previous texts that we have translated for you. We use translation memory systems to store our translations so that we can access and 're-use' them if necessary. They enable a high level of consistency in our translations as sections of source text that have appeared before with identical or similar phrasing can be consistently reproduced in the target language. The stored translation is proposed by the system as known/similar.
To give you first-rate quality every time, we never 'head out on our own', but instead conduct EVERY project as a team in line with the concept that two heads are better than one. This means that a qualified translator translates the texts into his/her mother tongue and a second qualified translator then proofreads them. We discuss tricky areas of the source text before the project begins so that we can professionally translate them into the target language/our mother tongue.
We know our way around well – both outside and in the big wide world of words. We review every target text prior to delivery to ensure that any specific terminology has been adhered to, the tone of the text is right for the company and the target audience is appropriately addressed.
Languages are our life. As such, we create end products of particularly high quality.